嵐の家 / ARASHI NO IE / STORMY HOUSE
 "In the depths of the Dark House and shadows, we placed Woman, marking her as the whitest of beings – but only the face and hands. The teeth were painted black, the lips green-black, the eyebrows shaved. She was as a spectre: might not the Darkness have emerged from her mouth and black teeth, from the black of her hair, like the thread from a great Earth Spider?"
Junichiro Tanizaki, In Praise of Shadows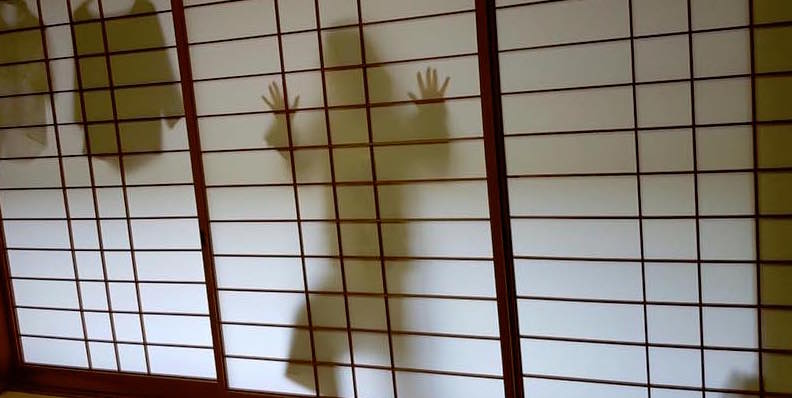 Arashi no ie / Stormy House will be a mixed reality performative installation based on the ghost scenes from Wuthering Heights by Emily Brontë (1818-1848) and the kaidan (Japanese ghost tales) collected and translated by Greco-Irish writer, traveler and polymath Patrick Lafcadio Hearn (1850-1904).
Cross-artform narratives will explore the characters, ghosts and territories of our texts through Shinto's sacred ungaikyo (mirror of many souls) using performance, integrated video/set/sound design, calligraphy, choreography and landscape video of the Yorkshire moors and rural Japan. The scenario will be composed in modules, with the potential for Japanese and English versions and for several different realisations, including:
• a paper/stone mixed reality (stormy) house set, designed to run in a loop with occasional actor intervention. This will premiere at the Brontë Parsonage Museum in November 2018 as part of celebrations for the 200th anniversary of Emily Brontë's birth. It will then tour UK museum, gallery and studio spaces in 2019 and Japanese venues in 2020
• a VR immersive headset prelude: a prototype for a new portal into classic texts and a high-end, cross-cultural educational legacy for the Brontë Parsonage Museum (Haworth) and Lafcadio Hearn Museum (Matsue).
We are seeking:
• additional development support and funding for the creation of our prototype and performances in 2018
• additional touring venues in the UK in 2019 and Japan in 2020
We developed our concept during and after a Japanese ghost workshop with Opera North Projects in 2014 at Whitestone Arts' studio, located on the edge of Haworth Moor.
In May 2017 company members went to Japan, funded by Daiwa Anglo-Japanese Foundation, GB Sasakawa Foundation and (UK) Artists' International Development Fund. We visited artists and venues, explored the landscape and culture of rural Honshu, and extended our knowledge of Hearn himself (naturalized as Koizumi Yakumo) meeting his great-grandson Koizumi Bon, director of the Lafcadio Hearn Museum in Matsue.
Inspired by the way Emily Brontë's earth-centred (Celtic) world-view mirrors that of Shinto, we will show the ghosts of Wuthering Heights resonating with those ofJapanese folk tales.
Our core texts also explore the nature of the traveler who moves between geographies and is challenged by new perspectives. With his mixed parentage and restless personas, Lafcadio Hearn shares the same impulse to wander and interpret as Emily's fictional narrator, Lockwood. As a child, Emily chose an explorer's name (Parry)1 for her creative alter ego and located her imaginary Queendom of Gondal in 'the North Pacific Ocean'. Her single mature novel grew from these roots. Wielding the same power she invoked when 'making-out' with her siblings in the cellar of Haworth Parsonage, she creates, through language, a whole immersive world sealed off from familiar 'reality' yet full of natural and spiritual alternative realities. This could be a description of how the west viewed self-isolated Japan for centuries.
Using this unfettered territory of childhood world-building, the show will exploit the supernatural resonance between two archipelagos, drawing them together in quantum fashion: a phenomenon Einstein (influenced by reading Hearn) once gloomily called 'spooky action at a distance'. Hearn might have called it 'the probable consequence of swallowing a Soul' – a line from the ghost story fragment In a Cup of Tea, acted-out for him by his wife, Setsuko.
Both Hearn and Lockwood swallow souls from the beginning of their life-changing interventions into the ghost-ruled lands of the dead. From the start, they are possessed.
 One need not be a chamber to be haunted,
One need not be a house;
The brain has corridors surpassing
Material place.
Far safer, of a midnight meeting
External ghost,
Than an interior confronting
That whiter host…
Emily Dickinson. Part Four: Time and Eternity LX1X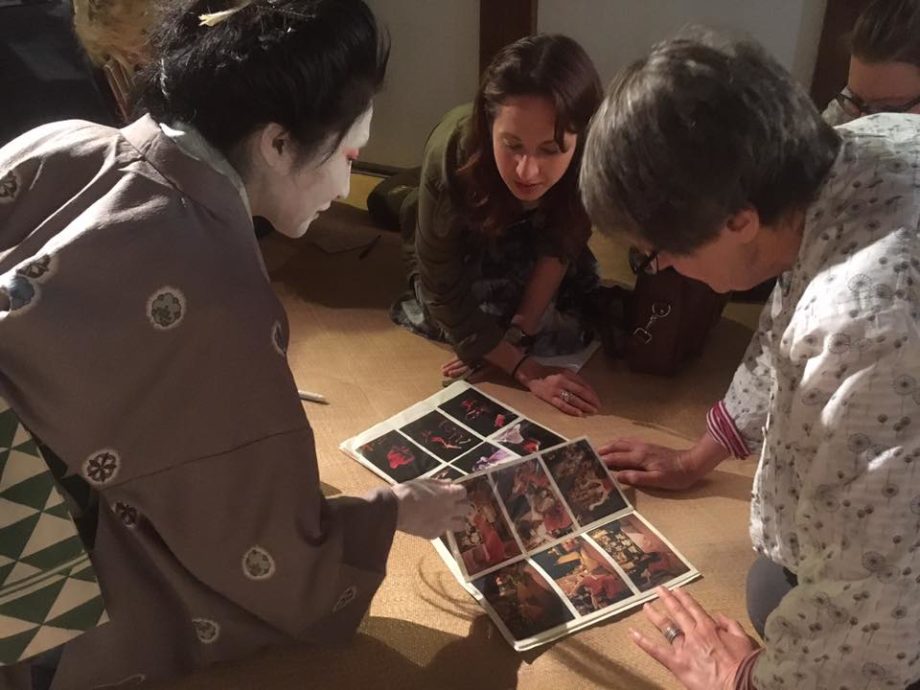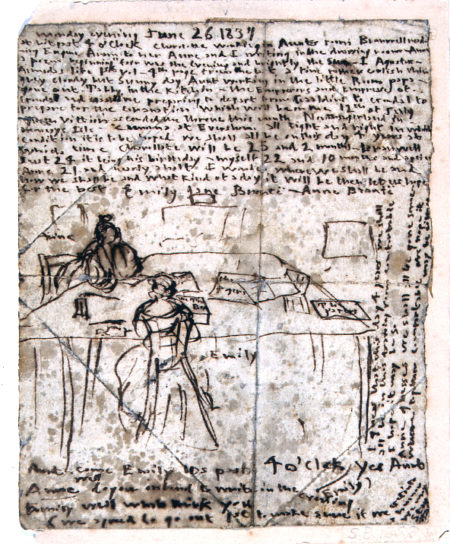 MAKING THE SHOW: January – November 2018
We will develop the scenario, show and VR prototype with UK partners Brontë ParsonageMuseum, Bradford Theatre in the Mill, Bradford Council, our sister company Fifty Nine Productions (London & New York) and Bradford University's School of Media Design and Technology.
We have also invited two inspirational Japanese artists to England in June/July 2018, with Japanese translators, to join the making of this project and develop our comparative study of two worlds, languages and cultures. Public and student workshops with calligrapher Misuzu Kosaka in the Japanese style of 'following the brush' will use kanji (Japanese characters) as a fluid bridge between words and pictures: both significant to the narrative worlds of the Brontës. Earth-based Butoh techniques explored with Ima Tenko will express a mischievous world of ghost-children and the supreme power of their mother, Earth. These intensely physical activities will be recorded and digitised to be used in our designs and to inhabit the set as our ghost-worlds.
Our aims are:
• to explore the ghostly/elemental dimensions at the heart of Wuthering Heights through its neglected 'author'/narrator and unlikely hero Lockwood
• to introduce the texts Lafcadio Hearn wrote in celebration of Japan to a wider audience
• to gift young people with a sense of the power to be found in literature, imagination, dreams and art, the better to improve the world they will inherit 
• to integrate two cultures a whole world apart by digging up their common roots in Shinto, Celtic and all mythologies
 • to create new prototypes for approaching and accessing classic texts from both (and potentially many other) cultures.
When we interpret another culture through our own lens, we bring the difference the other can bring… Then, when familiar territory is given up, the traveler can stand in a new familiar, in the place where worlds (and they are whole worlds) meet.
Sondra Horton Fraleigh on Butoh: Dancing into Darkness
WITH THANKS TO THE FOLLOWING ORGANISATIONS FOR FUNDING/ SUPPORTING R&D (2016) AND RESEARCH TRIP (2017)