Stormy House / Arashi no ie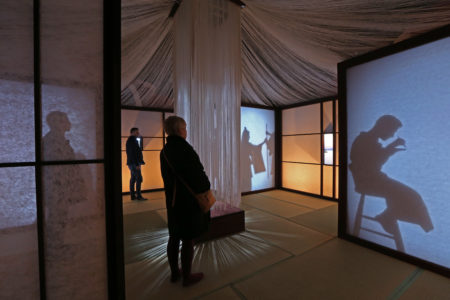 Stormy House / Arashi no ie
Stormy House/Arashi no ie is a walk-in multimedia installation which immerses visitors in text fragments and hauntings from the ghost world of Wuthering Heights and a parallel universe of kaidan (Japanese ghost tales). The uncanny elements of Emily Brontë's novel are explored in an extended comparison with these ancient tales, which were collected and translated over a hundred years ago by Greco-Irish author Patrick Lafcadio Hearn.
In a space inspired by a Japanese tea house, visitors find themselves between two writers and their writing rooms. Their words and drawings are the source of the immersive experience, which plays out in the form of multiple projections across several screens.
Stormy House/Arashi no ie was created by Judith Adams, Stacey Johnstone and Simon Warner in collaboration with Misuzu Kosaka, Natsuko Toyoshima, Ima Tenko, Riko Murakami, Ayaka Morimoto, Aaron White and Zoe Katsilerou. It was first presented at the Old School Room, Haworth 3-11 November 2018.
An installation by Whitestone Arts and 59 Productions, in partnership with Brontë Parsonage Museum and Theatre in the Mill. It is supported by Arts Council England, British Council, Bradford Metropolitan District Council, The Japan Society and Wabi Sabi Design.
See main Stormy House entry for further details