Fantastic Fox-Sama. JA, 21 May 2017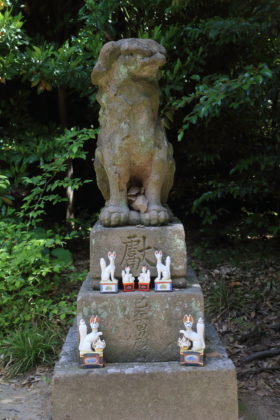 We went to the castle and left our shoes at the bottom of the tower. Matsue-jo is a wooden tower on a hill nesting over the town. Around it is a moat full of turtles as overfed as ducks are in Ilkley. Its floors and stairs are polished like glass with the feet of centuries, but I find my own splinter. Outside, three Samurai, a Geisha and a ninja pose for photos.  A raptor hovers. The swallows are busy and there's a rainbow halo round the sun. Stacey wanders round the hill and finds a path down the Lafcadio Hearn / Koizumi Yakumo Memorial Museum side of town where there's still a line of Samurai houses running along the woods. We follow it and find his favourite temple. His personal temple, guarded by foxes, messengers of the gods. Jozan-Inari-jinja Shinto Shrine.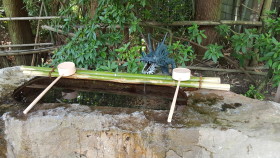 There's a tiny green dragon looking after the hand washing trough. Fantastic Creatures and where to find them…
The foxes have many children. There's the same warmth of humanity about this as there was at Izumo Taisha Grand Shrine, and somehow the reduced scale of a like shrine complex pleases even more. It has a personality modest and momentous at once. The smaller something is, the better – as Koizumi Shoko later says, showing us the museum's exquisite compactness?
And it's the same with Lafcadio Hearn's family home below: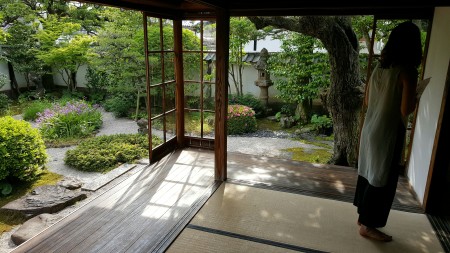 Do houses make great writers, or writers make great houses?
Even more mysteriously: when half of his home has been taken away – as a private semi – why is it still so exquisitely magical? Does a ghostly mirror exist down the centre to double its impact? The mirror of souls? It moves me as much as the temples do.
Our houses are our teachers. I think I read that somewhere, in an essay about Japan.