Trusting Direction. SJ, 24 May 2017
I started the day truly lost; apprehensive of meetings to come, how to find the location of each meeting… so many unknowns in a new place.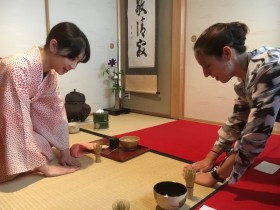 A tea ceremony soon rooted me in Kyoto  and I find a new love for macha tea, perfect for a long day of meetings and workshops.
We sure needed it as we paced through misinterpreted (by me) Google map directions. But we find the Kyoto Arts Centre after a bit and albeit flustered, we are again greeted with the coolest of welcomes, namely a cup of chilled green tea.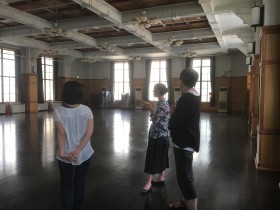 The Arts Centre, housed in an elegant old elementary school, offers free space to artists for rehearsals as well as providing performance and installation/gallery spaces. We are taken into a couple of studio spaces and whilst each could house what could be our performance/installation, it is a classroom that captures the imagination. It remains as if untouched since a child placed their chair under a desk for the last time. I notice the chalky residue of many lessons past on the black chalk board… ghostlike and yet if you were to brush water on the surface it would be as reflective as calligraphy ink and as alluring/frightful as the blackened teeth of a Butoh dancer (this is known as Ohaguro).
Keeping within the ethos of what I believe teaching (and indeed creative processes) to be, KAC appear:
Open (with their spaces and ideas)
Supportive (to artists and young people in the community)
Aware (of preserving the building and being progressive)
It is a home for artists in training, artists making and the community in which the building itself resides. While I wait in the KAC cafe for a meeting with performer/artist Keiko Yamaguchi, I look around and see local residents coming in for late afternoon cake; such as an old couple, leaning on each other in support as they walk forwards towards many sweet treats (they look at me equally engaged and with the act of a simple nod, I feel that they accept me in their space). The gesture allows us to acknowledge each other whilst not having to enter into superfluous dialogue. Small, simple, significant.
When Keiko arrives to meet me prior to her rehearsal she expresses the role that the KAC plays for artists here as it provides the space to experiment, explore and perform work that is difficult to access in a city like Tokyo. She gives me insight into what it is to be an artist here and we find commonalities, discuss differences, share experiences and connect though describing our projects. Keiko has already opened up new experiences to me, having recommended I work with and see Butoh dancer Ima Tenko, clearly proud of the cultural heritage of Kyoto. She tells me that Kyoto prides itself on preserving the culture of Japan and community plays a large part in this and its growth. I'd be proud too if I was part of the culture here. I want to know and experience more than our 16 days allows. However, although it's only been 5 days, I feel so grateful that my creative community is growing in a country that I might have never explored without this project – without recognising myself in relation to such an incredible "other".
We part at the subway station as she directs me to my workshop with Ima Tenko and we don't close with goodbye but with a sort of "see you later"…maybe this week…maybe in years to come in a studio.
I had planned to get a taxi from my meeting to the Butoh workshop but Keiko insists that the tube is a much better idea (internally I sigh, panic, stress) but she is clear and I turn off google maps, trusting her direction. Three stops on from our "see you later", past the 'Daily Shop', taking the first right, I come across a written paper trail of instructions attached to walls in the backstreets, leading me to the door of Ima Tenko's studio. She stands and welcomes me with such a joyous, mischievous smile. I know immediately that the the next two hours will go too fast.
The workshop starts making one-to-one physical contact and I know that although I didn't know where to go this morning, tonight I couldn't be less lost in this space. An experience that can never be repeated. I had the opportunity to use my "beginners body" and experience my first ghost walk (originating from Noh theatre ) ..moving forwards with an eye on what has gone before.