Workshop: Walking and Dancing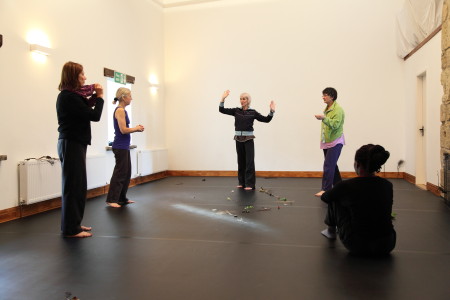 Whitestone weekend workshop with Ruth Jones
Suitable for all levels of skill, this workshop can be seen as part of personal development or be more directly applied to the world of theatre and dance. Two walks taking an hour each day, on moorland terrain requiring good shoes and waterproofs, will be led by one of our hosts.
Introduction
Walking and Dancing is simply that, walking – in the form of taking yourself for a ramble across beautiful countryside from Whitestone, and dancing – in the form of creative, improvised and choreographed movement. A different walk will be encouraged and experienced at the beginning of each day, which will precede and inspire the dance for the remainder of the day in the studio. Various ways to translate the experience of the walk into movement and dancing will be offered such as visualisation and improvisation, and the experience of a variety of choreographic processes as a means to set/fix creative movement.
Biography
Having trained at The Laban Centre, London, Cunningham Studios, New York and Temple University, Philadelphia, Ruth Jones is first and foremost a contemporary movement practitioner and choreographer. Her work has been shown nationally and internationally over her 25 year career.
In the past 15 years, Ruth has taken her own dance work out of the usual black box. In her personal practice she now specialises in Sited and Site Specific work. Her Manchester based Axial Dance company tours outdoor works around the country. Also, some 15 years ago, Ruth became interested in theatre and began choreographing theatre work and teaching movement for actors. She has since choreographed over 50 productions for UK theatres.