Watershed Landscape Project
Whitestone Arts conducted a visitor survey on Haworth Moor over the Easter holidays 2012, as part of Simon Warner's artist residency with the Watershed Landscape Project (Pennine Prospects). With the help of  Jasmine Taylor and Rebecca Stott, travel and tourism students from Leeds City College, Keighley Campus, we asked walkers what brings them to this much-visited area of open country.
The findings, including voice recordings and photographs, formed part of our live performance Crossing the Line at Unbounded Moor, a symposium on landscape and literature held in Haworth in October 2012 under the auspices of the Brontë Parsonage Museum and Ilkley Literature Festival.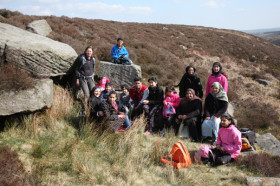 Also for Simon Warner's Watershed Landscape Residency, we hosted a group of walkers from the Grange Interlink Healthy Living Centre in Bradford. Arriving by minibus, the group collected in the barn studio for refreshments and a slideshow of Haworth and Stanbury Moors, intended as inspiration for the group's own photographs. They then walked to Ponden Kirk and picnicked by the stream.